A Pioneer in Generating Increased Performance
Since 1976, I have produced and enabled others to produce exceptional results in a wide range of industries and organizations.  My unique approach, balancing sound business management technology and human dynamics, generates greater business and individual success.
allies, n. participants in an association, working to further common interests; partners united to give aide or assistance for a specific purpose or benefit

I chose the name Performance Allies as being most descriptive of what I do: serve as your ally in tapping your resources and honing your abilities so you achieve and enjoy even greater success.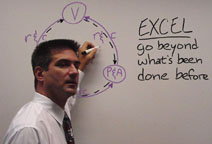 I began consulting in the 1970's.  I observed missteps in the fast-growth electronics field, had a deep interest in personal development programs and human dynamics, along with business and management expertise.  I combined these to obtain remarkable results developing and managing technical staff, later applying similar methods as a consultant in other tech firms.
I have produced, and enabled others to produce exceptional results in a wide range of industries and organizations.
I created innovative programs, training and procedures for divisions of ATT and for Harris Corp., resulting in substantially better results that contributed directly to the Bottom Line and improved morale.  In 1989 I conducted a quick turn around on a struggling small tech startup, increasing revenues eight-fold, setting them up to generate $10MM annually, surpassing GE and RCA with revolutionary technology.
After refining programs and tools for Morgan Consulting Group in 1991 and coaching several of their consultants, I saw an opportunity to change thinking and effectiveness in the business world.  I launched my own firm: Performance Allies.
My analytical bent and systems-thinking (my first two degrees in are in electronics) join with my lifelong fascination of effectiveness and excellence, to lay the ideological foundation for Performance Allies.
In 1993, I co-founded an international association of my peers.  I held leadership roles for several years in the San Rafael Chamber of Commerce, SofTECH (a San Francisco area high-tech association), Linked Local Marin County, and other organizations.

I have spoken for various groups (including Chambers of Commerce and San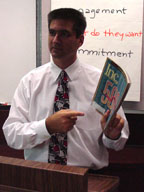 Francisco's Commonwealth Club), written for various business publications, and have taught business courses to high school, college and business groups.
I have been active with my spiritual community, responsible for large teams (up to 70), leading workshops on forgiveness and other spiritual growth topics.
My training and experience encompass thousands of hours of education in business, consulting, coaching, effective communication techniques, and motivational skills.
I have run my own business, held management positions in Corporate America, and have served on boards, so I know fiscal responsibility, and am committed to helping you improve your bottom line and overall results. You can see even much more on my LinkedIn profile.
I can not only identify closely with your concerns, but bring perspective to you: I am not limited by the industry practices or your habitual practices and outlook that could be part of the source of your challenges.  My focus is the most direct and effective way to generate the results you desire, taking into account those issues that must be included to product the outcome.